Top 5 Memorial Gift Ideas For Those Who Lost A Parent
October 18, 2022
Let's be honest, writing or even thinking about such an emotional topic is extremely challenging and worrying.  The feelings, emotions, and memories come rushing down, it needs to be handled with a mix of maturity and sentiments in balance. One can only imagine the plight of those who go through this unbearable pain. After all, losing a parent is the most miserable thing that can happen, it is a void that is certainly impossible to fill. There can be many friends, colleagues and relatives, but you only have one father and a mother who are there for you every time you need them. Their love and support have no boundaries and are totally unconditional. 
Coming back to the task at hand, listing memorial gift ideas for those who lost their support pillars recently. These gifting options should have certain emotional values attached to them and not be totally commercial. With this complex set of criteria let's find out the best plausible gifting ideas.
1.  Gift an oil portrait
Trust us, there can't be anything more fitting for a tribute as well as a memorial gift than a favourite portrait of their loved one. Nothing else can cover a diverse range of feelings and emotions one might have for their parent. The constant reminder one might have on seeing the picture of their beloved parent will probably lessen the void to some extent.
It would motivate them that their beloved ones are watching them perform and they will certainly live in their memories forever. Oil portraits can be made from existing photos even old and torn ones. Old photo restoration services are offered by a few big organisations that have skilled artists.
View this post on Instagram
2. Get their favourite quote/words framed
Parents have a habit of constantly monitoring and correcting their children throughout their life even when they are adults. In the process, they leave certain priceless bits of wisdom and experience that remain etched in the hearts of their children. A quote, a saying or some lesson that is personal to the kids, would be worth framing. 
It would keep reminding them that they should inculcate those lessons in their life and make it their habit of implementing those words of wisdom. After all, it will be an invaluable tribute if they become the person their parents wished for all these years.
Source: byDeze
3.  Gift a sapling
Nature has since ages been a traditional healer, gifting a sapling would indeed be a great gesture. The kids might name it after their beloved parents and in the process of watering and helping the plant grow, they might develop a special bond with it and it will help them be strong emotionally and mentally as if their parent is still with them and watching them be a wonderful person.
View this post on Instagram
Watching the sapling grow will aid in the development of values of compassion and care and in some sense it would be akin to taking care of someone who needs our help but is unable to speak, this deep bond would be magical.
4.  Gift parent's favourite item
Everyone has certain attachments and possessions that are prized by them and are absolutely priceless. Nothing can compare them or be even close to it. Like if the belated parent had a personal favourite collection of songs, gifting their kids that perhaps in a cd/USB would be totally worth it.
Listening to those melodies is sure to remind the kids as if their parents are still there and they are listening to their favourite songs in a nearby room. These little memorial gift ideas are sure to help lessen that unbearable grief and make a shift towards normalcy again.
5.  Gift a big personalised journal
It is often said, a person lives or spends 95% of their time talking in their head, it is a vault of feelings, emotions, love, words and beliefs that are inaccessible to any outsider unless depicted by the person via words or actions. Gifting a personalised journal with a photo of the late parent is going to be a gift worth remembering. 
It will help the person pour the unsaid, unrevealed thoughts and feelings on paper and make them live peacefully. A lot of emotional stuff, things they would have wanted to convey to them, could be brought out and a great burden would lift off their head.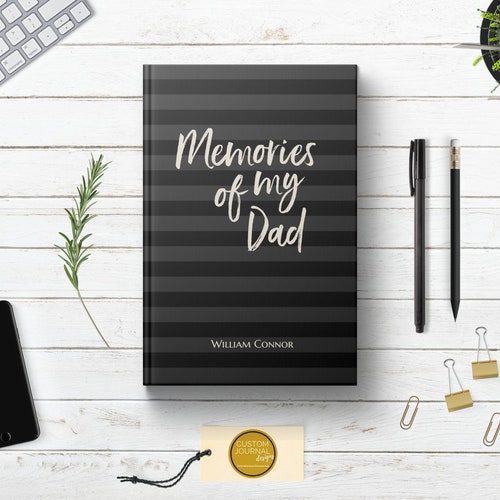 Source: Etsy
Some final words:
As stated earlier, listing memorial gifting ideas for someone who lost their parent is a herculean task, so many factors are involved in deciding the options. Thankfully, our team of experts have sieved through a long list of options and curated a list that is the perfect blend of emotional and sentimental value while being long-lasting and memorable. From Digital oil paintings to saplings and personalised journals, the options are aplenty, choosing ultimately the right one depends entirely on the circumstances. This is almost certain, you can't go wrong with any of these. Do let us know which one you decided and how it made them feel. 
In case you opt for digital portraits, do give us a chance, our professional artists would surely bring to life those precious memories, help in the restoration of old photos and have a gift ready that is going to inspire and remind generations. Let us be a part of the small tribute to the great loss and help the younger ones cope up with a fitting and prized gift.